PRODUCT IN-DEPTH - TYGER HITCH MOUNTED SKI RACK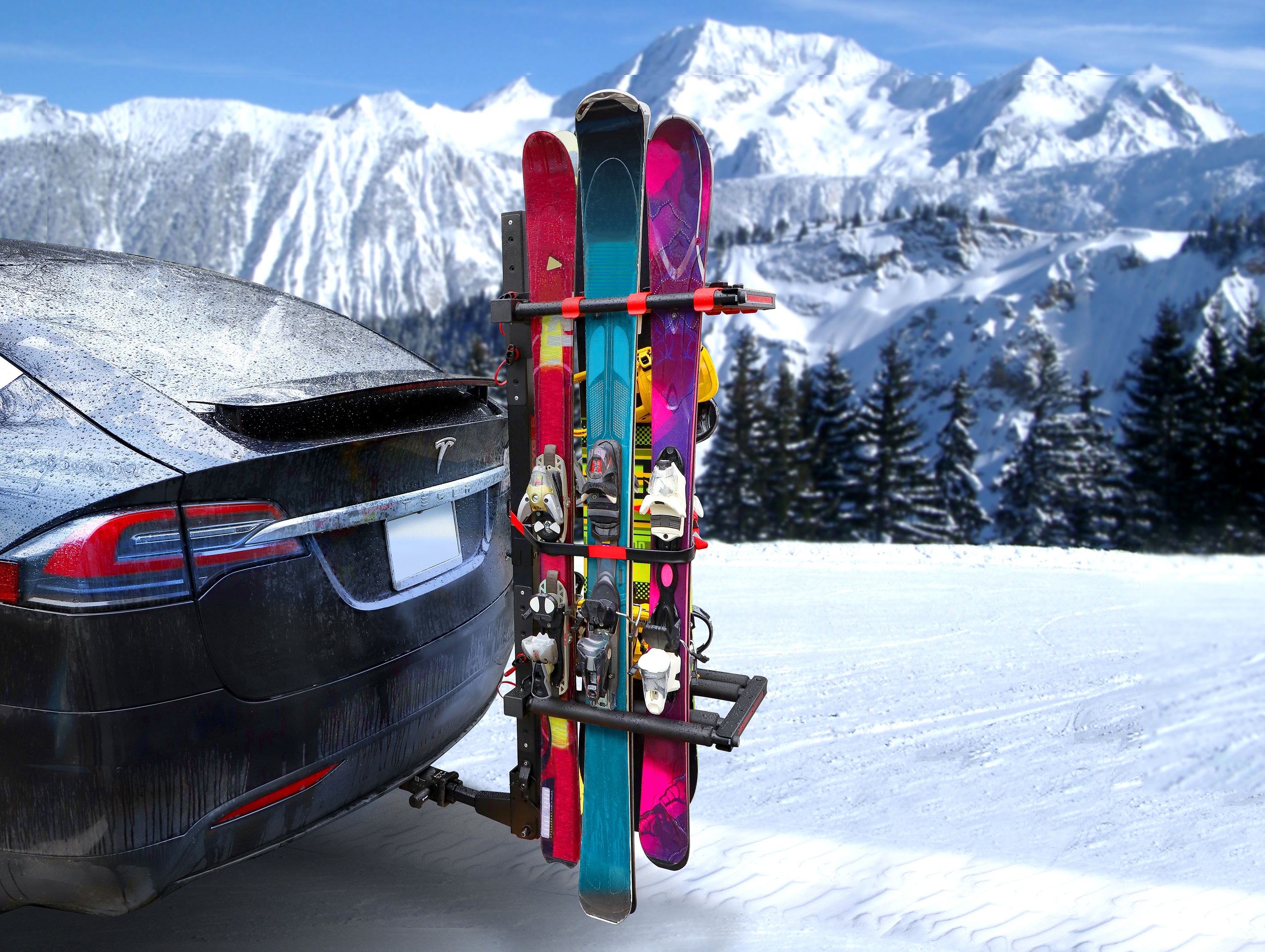 Punxsutawney Phil, America's favorite rodent savant, predicted in early February that spring was around the corner. For the winter sport enthusiasts, that means there is still a month or 2 of solid skiing and shredding on the hill. For Tyger Auto, we have been working hard to conceive ideas for products and solutions to support the winter sport audience in addition to our existing all-season bike rack and roof basket offerings. In January, we released one of the first ski/snowboard dedicated hitch mount in the marketplace - TG-RK1B707B. This mount introduces a feature set that addresses the shortcomings that other ski rack/mount solutions may have in the marketplace today.

BABY BOOMER OF SKIERS / SNOWBOARDERS
Looking back, wintersport's popularity exploded in the 90s and 00s with the advent of the X Games and snowboarding had become mainstream. And now, members of that generation have become parents. With that comes the need for a family friendly storage solution to maximize the capacity and utility of your family vehicle. This mount offers several different storage configurations : 6 (pairs of) skis, 3 skis & 2 boards, or 4 boards.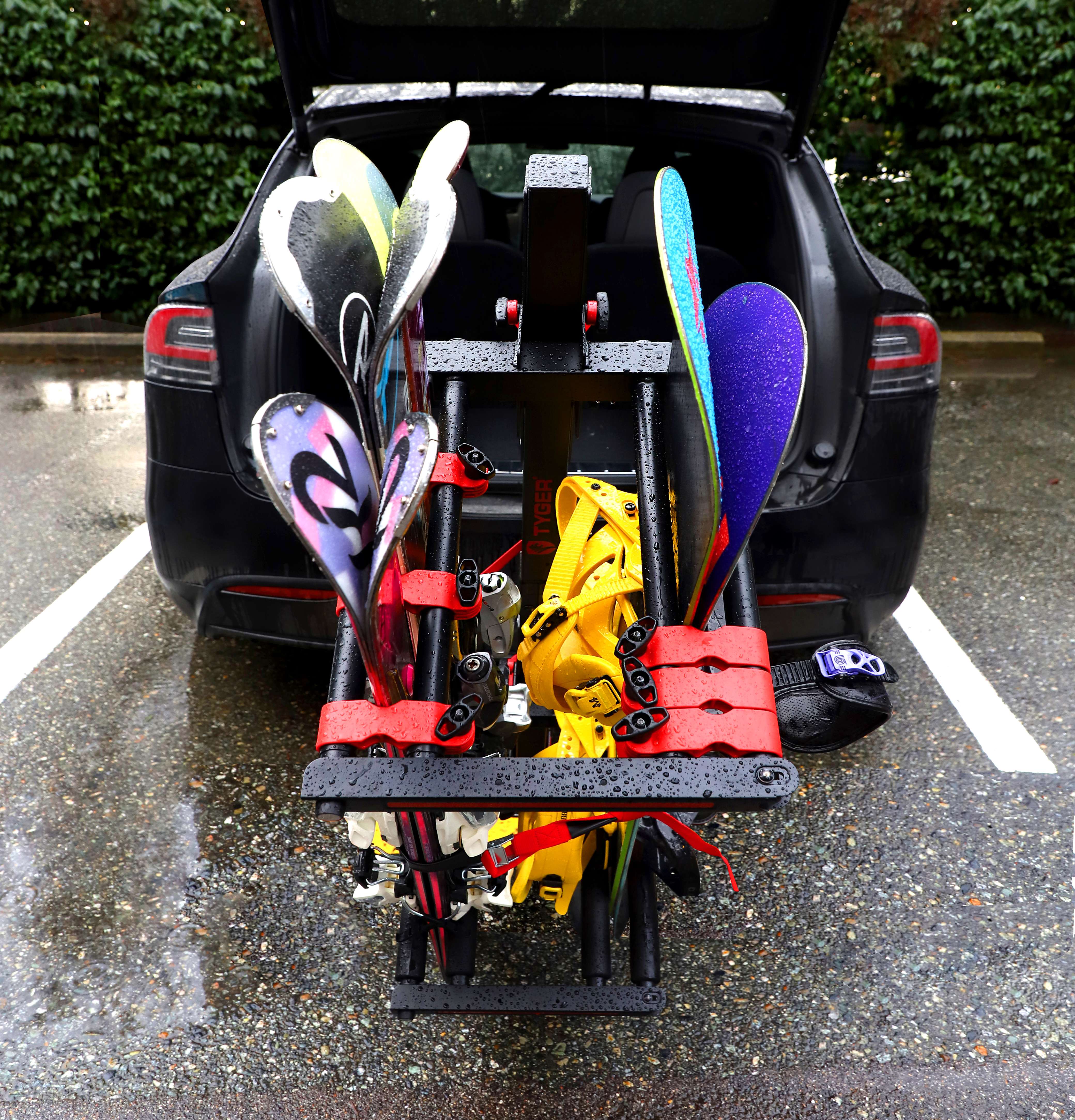 FULLY ADJUSTABLE MOUNT TO SUIT ALL USE CASES
Some of the most exciting features of the mount relates to its full-adjustability to accommodate all types of users, vehicles, and gears. While not in useIf? You can fold up the mounting plates for a clean look. Need extra clearance at the bottom or have longer/shorter gear? You can easily adjust the mounting plates vertically using the lock pin mechanism. What if you need to access the trunk of your minivan or SUV? You can't adjust the tilt of the mount to 120° to facilitate the trunk door to clear the mount; the tilt also allows for easier access to your gear for those who are not blessed with height and wingspan.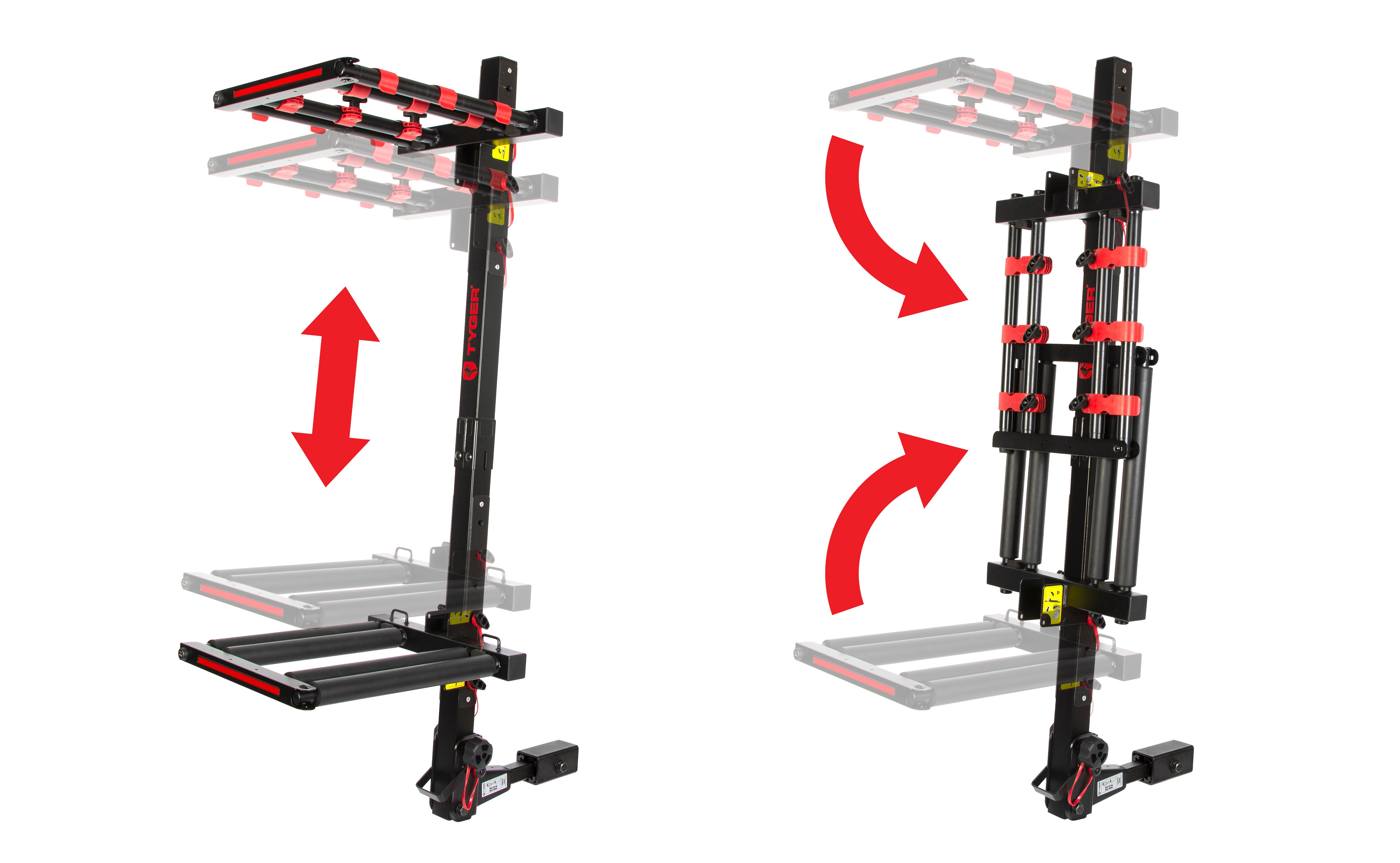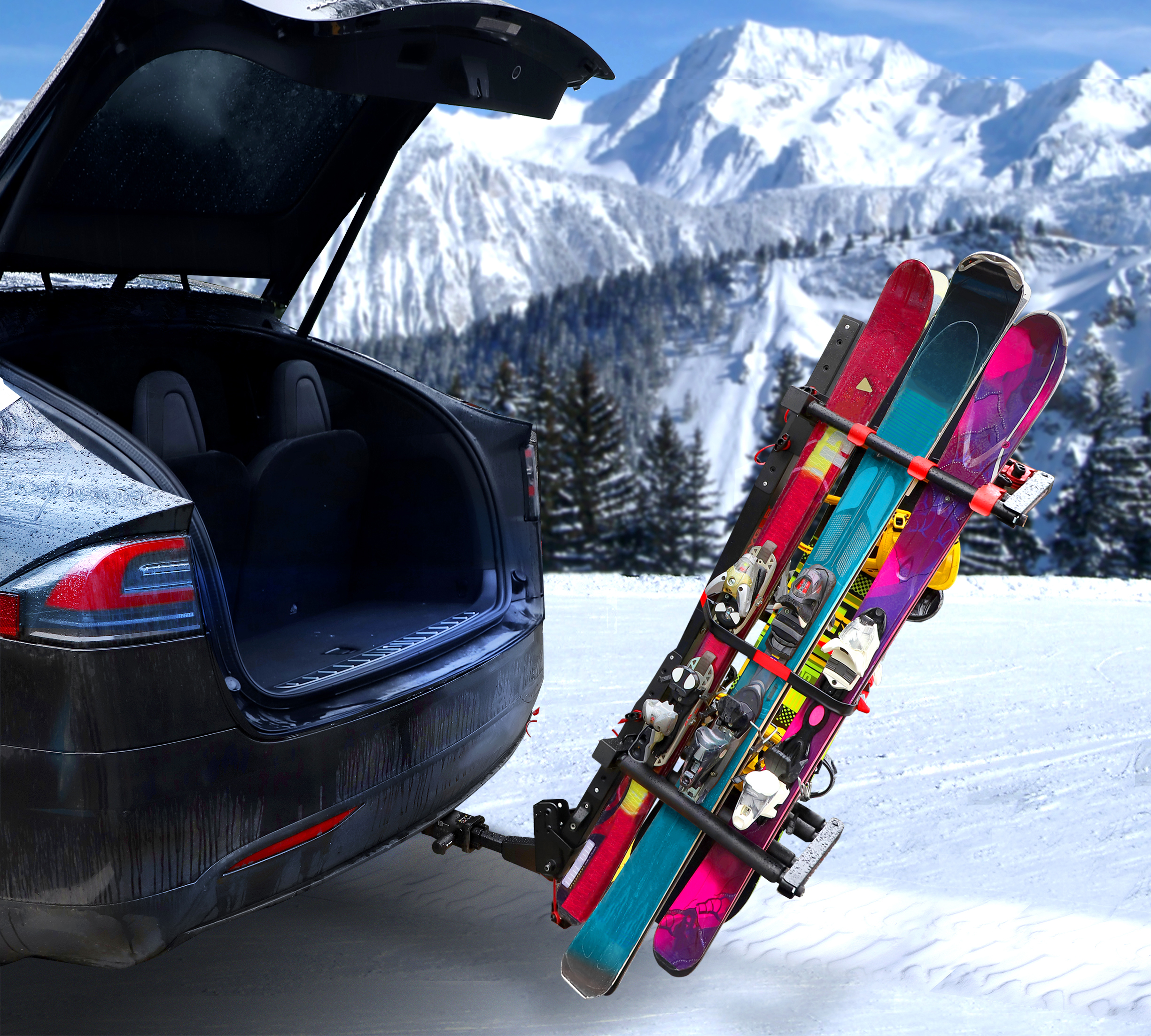 WHAT TYPE OF HITCH DOES THE SKI RACK FIT?
This rack fits into either 1.25" or 2" hitch receivers and the connected hitch is secured by none other than our Tyger hitch pin lock. If you have the 1.25" receiver, how it works is you simply remove the adapter at the end of the connector to reveal the smaller head.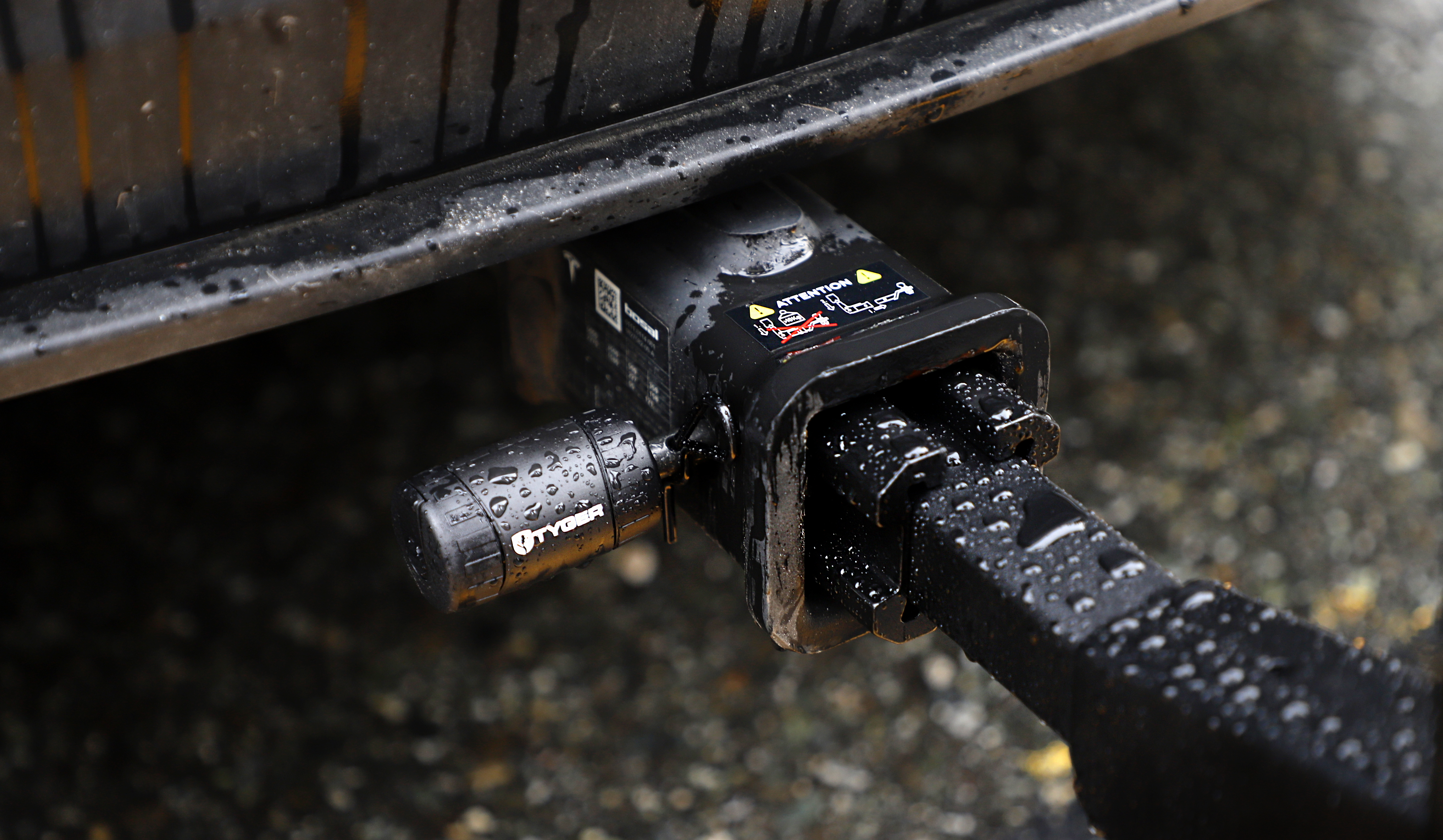 Friendly reminders about fitment– For those who wish to take this rack on a long road trip, we do not recommend installing it on hitches that are attached to a trailer, camper, or RV as it affects the weight distribution. Also, if your rear bumper has a large enough overhang above the hitch (8.8" from the hitch receiver's center hole to the edge of the bumper) you will need to get yourself a hitch extender to prevent contact between the bumper and the mount.
SECURITY IS ALWAYS EXCESSIVE UNTIL IT'S NOT ENOUGH
Finally, anti-theft features are paramount when it comes to storing skis and snowboards. To ensure your group's/family's experiences on the hill is not affected by some unsavory characters, both the top and bottom mounting plates require the provided key to unlock in order to access the gear. On top of that, the Tyger Hitch Pin lock also comes with its own set of keys to unlock ensure maximum security to your belongings.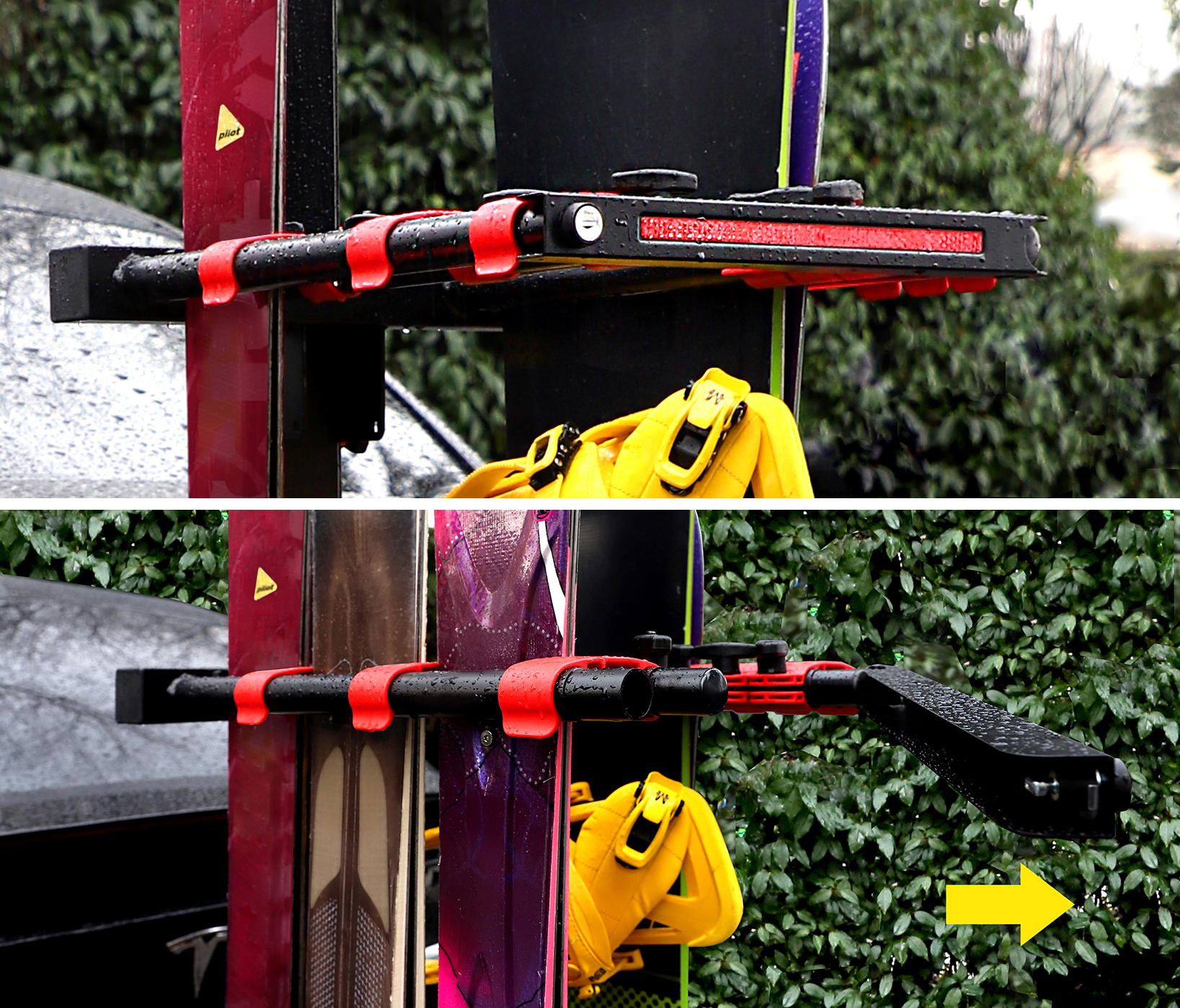 HOW DOES IT STACK UP AGAINST ROOF RACKS?
Traditional roof racks do a good job at storing your gear but it comes at a cost of fuel mileage and accessibility. As the season is winding down for us, you should have a better idea what type of storage solution you need. For instance, if you tend to ski/ride with a big group; have a hitch that is hungry for something to tow during winter; or want to access your gear at eye level — we feel strongly this Tyger Hitch Mounted Ski Rack would be the one for you.