READY TO WILD? TYGER OUTDOOR ACCESSORIES
Adios, dark bitter winter!

Unless you live down south where it is relatively pleasant all year around, the refreshing feeling of a 60° spring day is definitely a welcoming sight for the rest of us. More importantly, spring season helps jumpstart year-round activity and travel planning for families and active folks alike. This year however, social distancing will be a dominating factor on how a lot of us decide to spend our time. Best way to do it is simply to stay home, but what happens when your children run out of Disney movies and activities to do at home? How about practicing distancing while being embraced by the beautiful and vast wilderness this country has to offer? Hiking up the local trail, father and son fishing trips, camping with your family, or biking through the scenic route – all of which can be done in your own figurative backyard and at the same time promote positive energy and thoughts for those feeling anxious what's happening in our world.
At Tyger, we are very committed to supporting a large part of your active lifestyle with our line of bike racks and roof baskets. Today, we will provide a more in depth look at each of these products.
BIKE TRUNK MOUNTED BIKE RACK
Tyger's bike rack category is divided into 2 distinct applications: trunk mounted and hitch mounted. For trunk mounted rack, it is tethered to the trunk by 4 to 6 straps (depending on the rack's sizing) capped with rubber hooks to protect your vehicle's paint in order to provide optimal stability and load capacity. For securing bikes, the rack is equipped with protective cradles with easy-to-adjust straps to tie down the bike's cross bars into place. For city bikes designed without top cross bars, an extra adapter bar (sold separately) is required. Other quality of life features include rubber handles for ease of application; extra safety strap to tie down the bikes together, and durable rubber bumpers to protect the car's surfaces. Finally, the rack can be folded while not in use to save space.

With regards to the sizing, this model comes in 3 configurations (product number included). For those who are on a budget and just want something that works, the trunk mounted style would be a great choice for you.
Single Bike - TG-RK1B204B
2 Bikes - TG-RK2B202B
3 Bikes - TG-RK3B203S
(Optional) Cross Bar Adapter - TG-RK1B108B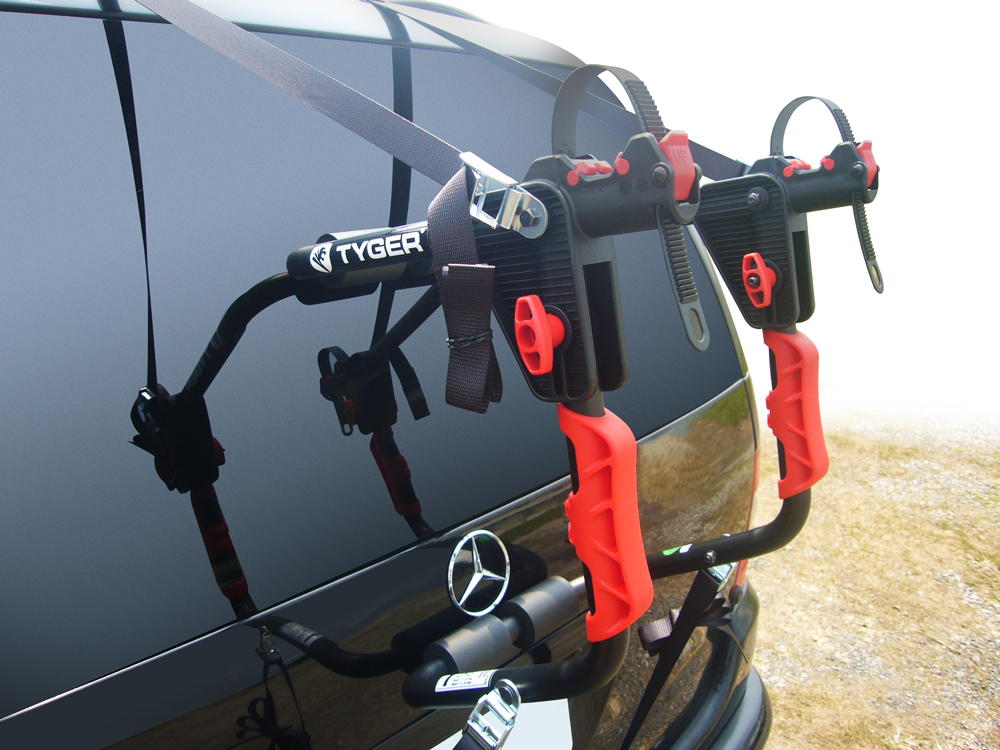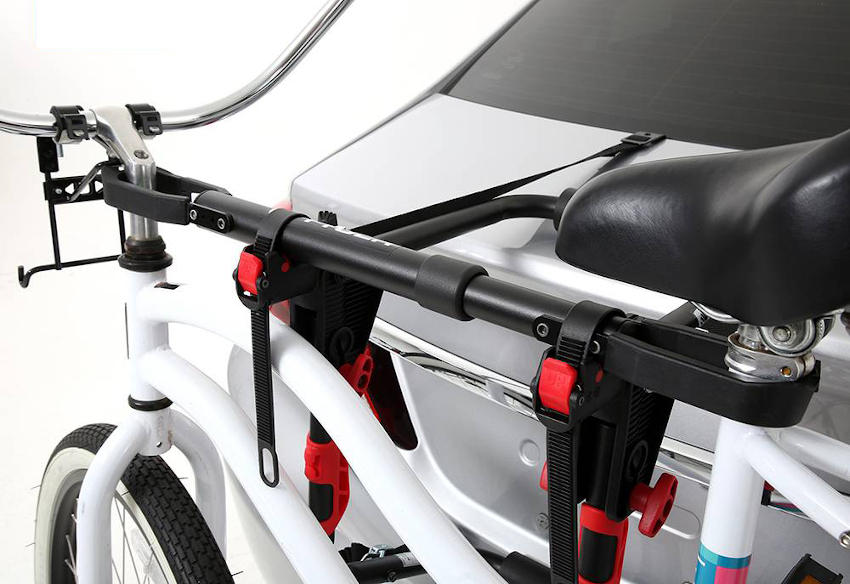 Finally, cars equipped with trunk spoilers will interfere with this style of bike rack in which case you may want to consider installing a hitch for a hitch mount. Which brings us to...
HITCH MOUNTED BIKE RACK
For those who are unable or prefer not to install a strap tethered trunk rack, require an additional bike space, and already have a hitch installed in their vehicle, can look into getting a hitch mounted bike rack. There are many benefits that come with a hitch mount. First, the only contact surface between the mount and vehicle is the hitch receiver – the Tyger Hitch Mount Bike Rack can be fitted into either a 1.25" or 2" receiver. Second, it has a more elegant and heavy duty design, supporting up to either 3 or 4 bikes depending on the model. The gap-adjustable cradles reduce entanglement between the bikes yielding a cleaner look when fully loaded. Other bells and whistles include: anti-theft 4-digit code cable lock, Tyger hitch pin lock, and optional safety strap to further tie down the bikes. For access, the mount is tile adjustable to provide trunk clearance and easier loading for the bikes. When not in use, the mounting plate can be folded to minimize its profile. Bikes without cross bars also require an adapter to mount to this rack. Given the extra features and superior construction, as one would expect, this model is priced above the strap mounts and we feel confident that customers will get full value with this purchase.

In terms of sizing, the hitch mount comes in 2 configurations:
3 Bikes - TG-RK3B101S
4 Bikes - TG-RK4B101B
(Optional) Cross Bar Adapter - TG-RK1B108B
For customers thinking of installing this onto their RV/Trailers/Campers? We do not allow for those applications. Also, hitch extension is needed if the distance between hitch center hole and edge of rear bumper exceeds 7". Finally, the weight capacity of each bike is 33lbs and weight should be properly distributed by loading bikes in the order of heaviness closest to the vehicle and out.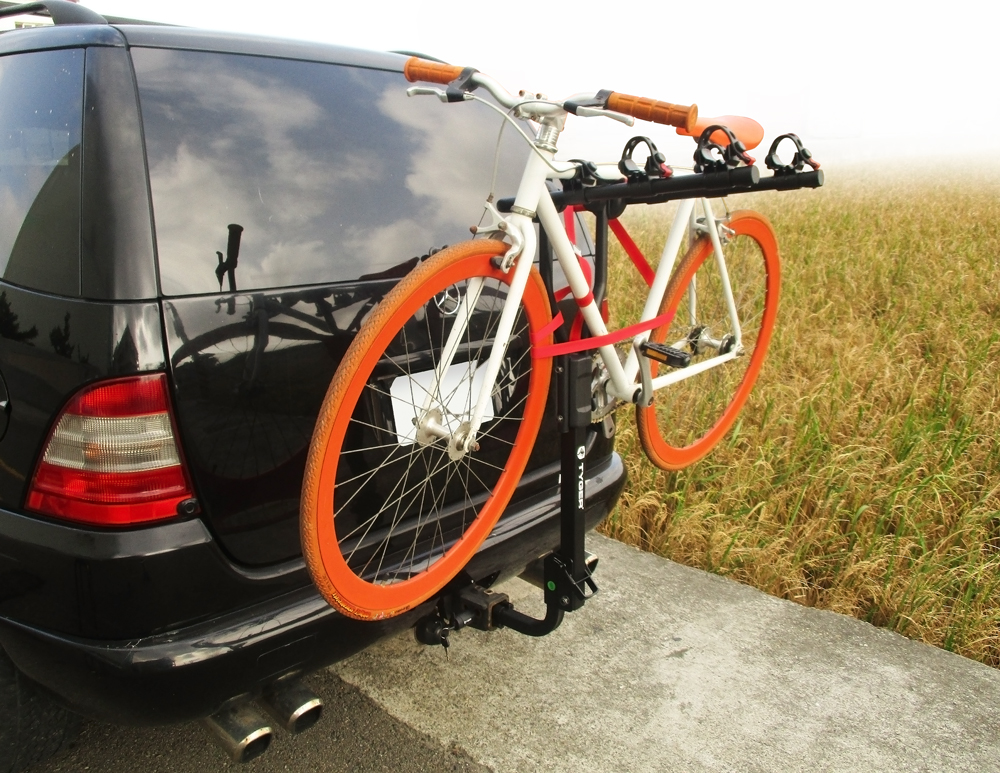 ROOF BASKET
Planning to go on a road trip? Need to store extra gas in the wilderness? Roof basket is the perfect storage solution for additional supplies, especially items you cannot or do not wish to store in the cargo area of your vehicle. Tyger's roof mounted cargo baskets come in 2 sizes: 47" x 37" (Regular Size) and 68" x 47" (XL). The XL model has the added feature to shorten to 52". Both models are constructed with heavy duty steel tube frame structure that offers superior strength and utility, allowing a load capacity of 150 lbs and many tie-down points to secure your supplies. Both sizes come with wind fairings for noise and drag reduction. The mounts are very easy to assemble onto most vehicles equipped with roof cross bars. A frequently asked question is what kind of cars do these fit on – the fitment for this product line is actually guided by the distance between the 2 roof cross bars and the dimensions of the bars.

REGULAR SIZE
Model No. - TG-RK1B902B
Dimensions - 47" x 37" x 6"
Distance between cross bars - 9" - 34"
Roof bar dimensions - 0.37" - 1.02" in thickness | maximum 3.55" in width
XL SIZE (SHORT AND LONG CONFIGURATIONS)
Model No. - TG-RK1B906B
Dimensions - 52" or 68" x 37" x 6"
Distance between cross bars - 16 - 32" or 32" - 47"
Cross bar dimensions - 0.37" - 1.02" in thickness | maximum 3.55" in width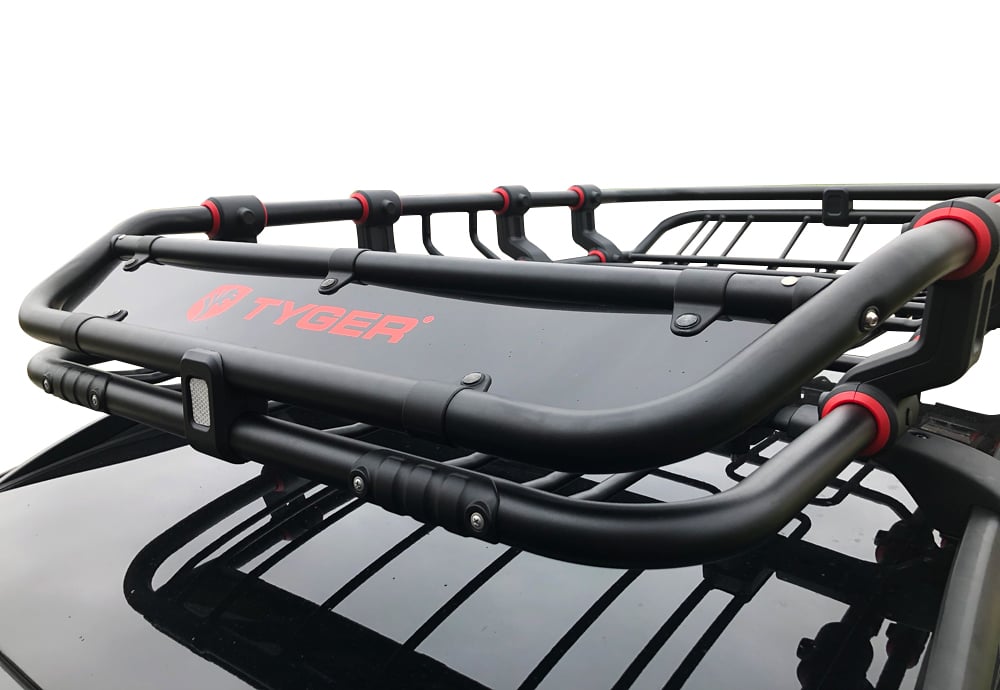 FINAL THOUGHTS
Spring/summer activities bring plenty of joy and valuable time with your friends and family. But without careful planning & problem solving, the journey might not go as smoothly robbing you complete satisfaction of the experience. At Tyger, we are driven to provide products designed to solve our customers' problems so they can focus on having the best outdoor experience possible. Until next time, we hope to see you on the trail!